Let us travel back in time, around 13 or 14 years ago or so, and revisit my experience of compulsory education. More specifically, a subject for which I reserved particular loathing and hatred: Food Tech.
My friend Maria and I shared a counter and sink. We weren't just bad – we were inspired. We ruined pasta. We earned the rage and ire of our Food Tech teacher by swapping bits of our scone dough (mine – sultana, hers – coconut) to create mutant scones. And finally, there was The Fruitcake. The Fruitcake was the nadir of my brief foray into cooking and sufficiently traumatised me to Never Ever try baking again because I would unleash untold horrors. Again. We had technology for the double period – two hours – in the afternoon, and I remember sitting in the classroom after the bell had rung and my friends had gone home, waiting for the teacher to allow me to take it out of the oven. I thought it was done; she was convinced it wasn't. The result was so dry it sucked all moisture out of your mouth and made saliva a distant and fond memory. In the end I crumbled it up for the birds because my family, long suffering as they were, quite understandably refused to take it to extremes.
At the age of thirteen, I decided that I distrusted this baking malarky and would have nothing to do with it. In fact, Maria and I were genuinely worried we'd starve or die of scurvy if we had to fend for ourselves.
Years later, and I find myself reasonably competent in the kitchen. Soup, risotto, curries, roasted vegetables, lentilly-couscousy-salady things – yep. But despite my love of cake, I haven't dared bake anything. I've watched people bake, I've enthusiastically tested their baking, I've regularly attended my LGBT Network's Queer Cafe and I've even decorated cakes (sadly, this seems to be the best photo of the Spiderman cake but it was pretty awesome). I've just never quite worked up the confidence to combine flour, eggs and sugar in a mixing bowl. Logically, I know I've cooked far more complicated stuff than this but it was no good: I had The Fear.
My friend Hannah at Stress Baker told me that baking is an excellent way to escape from PhD stress and bakes delicious things so often she's started a blog. My housemate made carrot cake last evening and it smelt wonderful plus, as she argued, the amount of carrot and dried fruit in it meant it was at least one of your 5-a-day and therefore good for you. You can even buy butch cupcakes if your fragile masculinity is threatened by baked goods or you're amused by manifestations of socially constructed and validated performances of gender. Also, and let this point not go unnoticed, you end up with cake.
So I found a recipe that seemed to offer maximum return/chocolate for minimum effort/skill and an hour or so later, had this: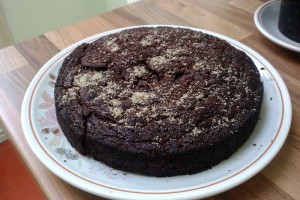 Perhaps not the most beautiful of cakes, but who cares, it tastes fine. And, more importantly, can't be used as a substitute for floral foam.
It made me think a lot about experiences of learning. As PhD researchers and academics, we tend to be good in our fields. It might not always be easy and we're not going to be amazing at every single area within our field, but usually it doesn't compare to the head-banging frustration of studying something you have absolutely no talent at and are scared of. Those we teach sometimes have no previous experience of whatever we're trying to teach them, but they often have some – and had bad experiences rather than good ones.
In my experience, it's often grammar; they've found it boring or confusing or pitched at the wrong level – too easy, too hard, or suddenly lurching from "easy" to "scarily difficult". Sometimes they had a bad teacher. Sometimes the exercises were boring and tedious. Sometimes it's been taught in isolation and no one's shown how it can be used to analyse texts. The experience of being told you're rubbish at something has many effects, not least lack of confidence, resentment and aversion.
Sometimes, when you're good at something, it's unfathomable how anyone could possibly find it difficult. It's useful to make ourselves uncomfortable to remind us how that feels in order to be better teachers.
For that reason, I have purchased white chocolate chips and dried cranberries. Exactly that reason.